A sit down with Host Julie Meise
Maryland graces Hollywood with their beautiful actress and new popular entertainment TV Host.
By Bobbi Miller-Moro
I had the distinct pleasure of sitting down with beautiful Julie Meise, a new up and coming actress and popular entertainment TV host, recently hosting on the red carpet at the 2009 Alma Awards. Born and raised in a small town in Maryland, she never has lost that small town charm and down-to-earth 'realness' that has her gaining in popularity on the red carpet.
After many years traveling in the high fashion modeling world, she wanted a new challenge and found that being on camera "listening and learning" about others is just as much fun as acting. We might have the next Giuliana Rancic on our hands.
We met in Hollywood at The Standard Hotel on Sunset, she walked in fresh and breezy with a big kilowatt smile. I wanted to discover who Julie is, and with her latest hosting of the "The Best Country Album" at The San Diego Music Awards 2009, Emmy Awards Style Lounge interviews, and various film festivals she is tearing up the red carpet with her energetic one-on-one interviews.
Once we sat down, it was not a few moments into it, where I got to hear Julie's laugh. From the belly, she let out a beautiful, rich throaty laugh that is completely infectious. Her good attitude and forward approach makes it a blast to have a conversation with her.
See Interview at: http://juliemeise.wordpress.com/press See Julie Meise' Portfolio @ New York Best Models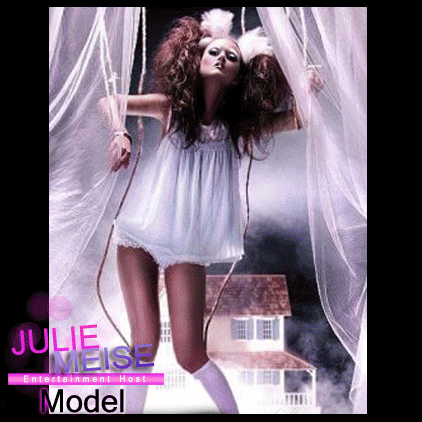 The Except from "A sit down with Host Julie Meise" all rights reserved by Bobbi Miller-Moro,
Licenced to New York Best Models as courtesy of Julie Meise.
Video credits: YouTube LLC., Mike Vensel, Julie Meise
Script Credits: photobucket
Julie Meise
Height: 5'9", Bust: 32, Waist: 23, Hips: 34, Eyes: Hazel, Hair: Medium Brown, Dress: 2, Shoe: 7
Julie is Ukrainian, German, and Cherokee Indian. She is known for her gorgeous, exotic skin and versatile look. A look, often compared to that of Helena Christensen, because of her bone structure, tan skin, and big captivating eyes.In 2006, Julie was discovered in her hometown. She soon started shooting with amazing photographers such as Roy Cox, Rodney Young, Mark Sacro, and Mike Vensel. Julie is currently signed with agencies in NYC and LA and often travels internationally... See Julie Meise' Portfolio @ New York Best Models